Looking for ways to spruce up your kitchen wall? Wondering how you could possibly fill the space without breaking the bank? We get it! Kitchen wall decorating can get expensive and it's not always the easiest to find big enough pieces to fill your space. You want to make sure that you are hanging the right amount of decor to avoid shrinking the room or allowing it to feel too empty.
We know from experience that kitchen walls come in all shapes and sizes and whether or not it's a huge dining room wall or a small divider wall, we want functional options right? Of course!
Let's take a step back and start with the basics...You'll want to define the empty wall spaces in your kitchen and make a plan of attack for what you want the purpose of your wall to be. Is it going to be another means of storage? Will it be a sentimental wall? or will you use it as a gallery wall? Once you've defined the space you can get down to business and we're here to help!
We've curated a list of the most inexpensive ways to achieve the kitchen wall of your dreams! That feeling of a massive hole in your wallet...you can say sayonara to that!
1. Layered Kitchen Wall Decor
Layering up on all your favorite pieces is a really easy way to make a statement without having to spend a lot of money! Layering is such a simple way to transform the original purpose of pieces and to allow for a more dimensional look! You'll get compliments left and right and the best part about it is that it didn't cost any more! We love the idea of layering two tobacco baskets on top of each other! Like the photo from @mydiyhappyhome below. She has used our set of 2 Tobacco Baskets in a whole new light. Not only can you layer these on top of each other, but you could also hang them side by side each layered with their own wreath or framed wall art. The possibilities for them are endless!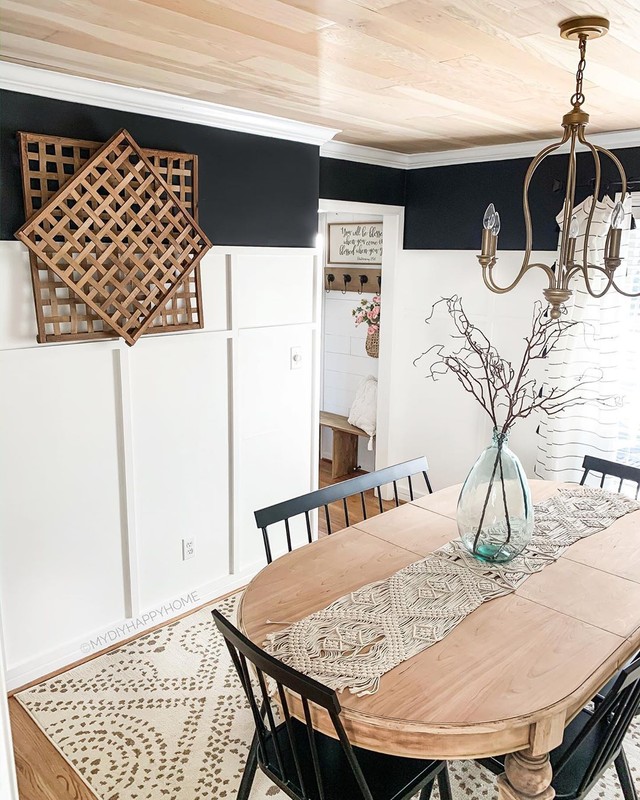 If it isn't tobacco baskets that you are into, you can always go about layering a different way. Layering can be done by adding any kind of wall piece, old shutters, stems, a wreath, or a clock in front of it. See our example below: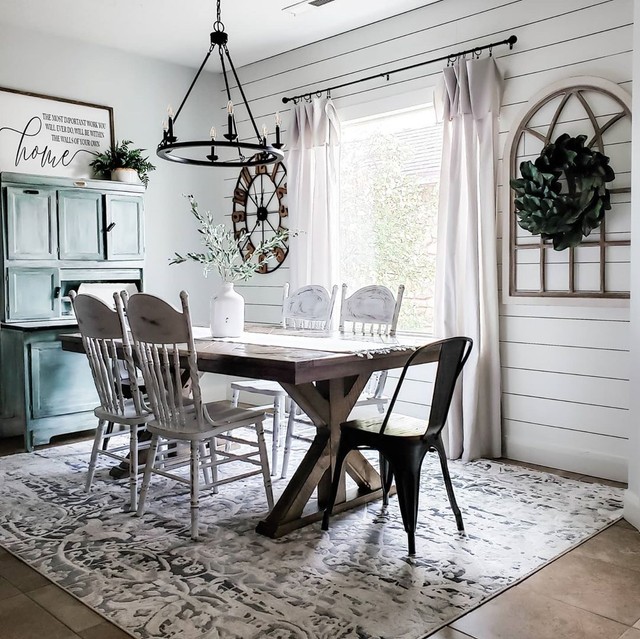 2. Calendar Cut Out Wall Art
This is one of our favorite decorating options! If you are on a budget and looking for beautiful wall art on a dime, try calendar pages! I know, I know...this seems a little out there, but just think about it for a second. There are a million different calendars out there and for the most part, they are pretty inexpensive. Black and white options are a good way to easily stick to being neutral and trendy. Examples of good ones are vintage-inspired calendar themes, like Ansel Adams calendars or even word map ones. Example of Ansel Adams calendars cutouts being used below:
Once you've selected the calendar you want along with the pages you like, it's time to hang them on the wall. Finding the perfect inexpensive frame isn't always the easiest and sometimes it can be tedious to find just what you are looking for. Try repurposing some you already have, painting garage sale ones, and mixing and matching! We also love the idea of using vintage-inspired wall frames and filling them in with the pages you love. Think outside the box! See our wall frame set being used below. They are just missing the pages added but that's where you come in!
3. Storage Wall Decor
Depending on the size of your space and the amount of cabinet space in your kitchen, you might want to utilize your empty kitchen wall space for storage. We absolutely love decor that's purposeful and honestly, we believe that for small spaces all decor can be purposeful without any of your guests really realizing it. Shhh...it's our little secret!
It's important to start with your needs first. What is your kitchen lacking and what would be the most functional approach to using your empty wall? Are you lacking in cabinet space? Try adding a multipurpose wall rack. We also love wall racks in general because they allow you to store your mugs and tea towels without having to take up ANY extra room at all! That's a win-win situation for sure!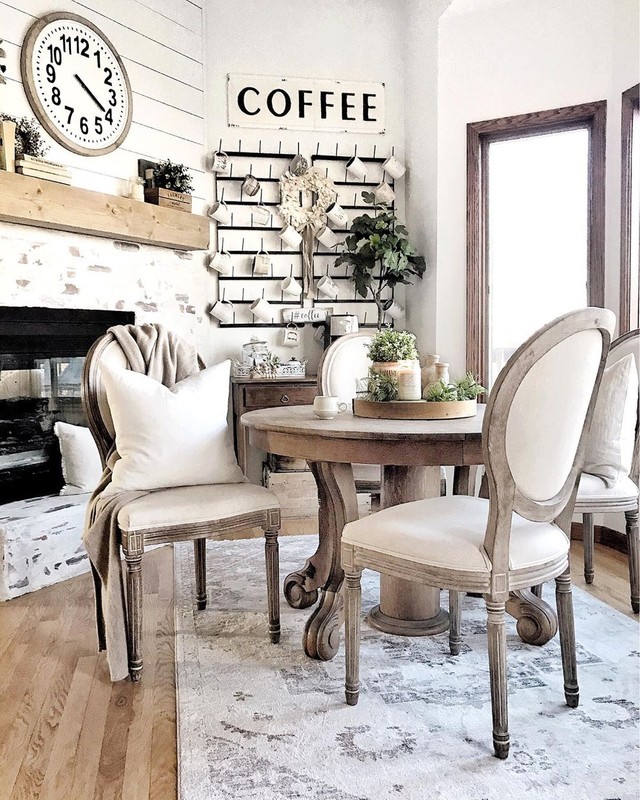 4. Floating Shelving Kitchen Wall Decorating
This option is super inexpensive! Floating shelving gets brought up a lot in other blog posts that we've done before because it's just a really great option all around. It's expensive, you have so many options, and it creates storage without taking up any extra space. Click here to check out our other blog post all about decorating with floating shelves for inspiration!
If your kitchen is lacking cabinet space or you need an area to display your spices, herbs, etc, this is perfect for you! We love the idea of adding some potted herbs for easy access and freshness for your home-cooked meals. Your family will appreciate this as well!
Another great use for floating shelves is to house your cookbooks. Whether you are a cooking connoisseur or lean toward the more inexperienced side, we all have cookbooks or at least recipes we need handy! Open shelving is the perfect spot for them. Not only are cookbooks essential for cooking but they make great displaying pieces. Decorating with them adds to the character of a place.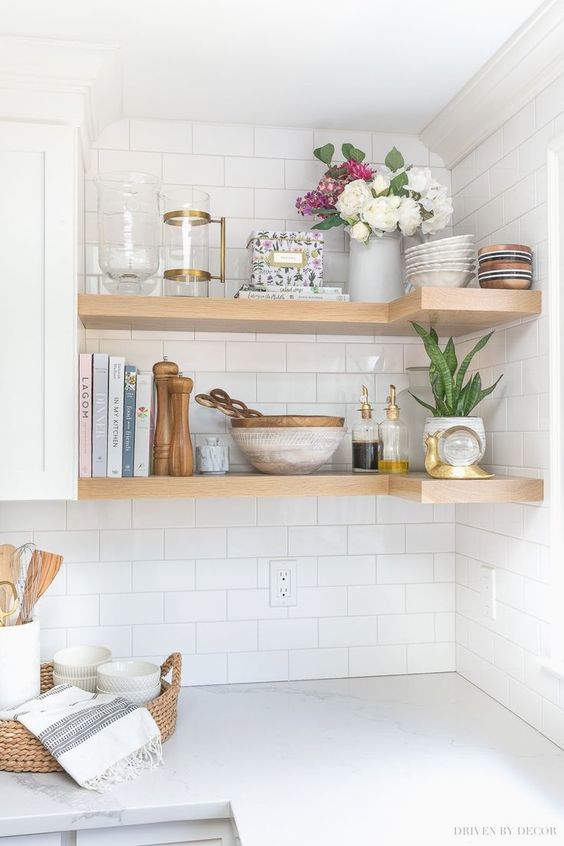 5. Vintage Pull Down Map
Okay, so this is very specific but we just LOVE pull-down maps! They take up a lot of wall space and although they may be a slightly more expensive option, you only need one for your kitchen wall decorating!
Depending on your kitchen/dining room situation, the pull-down map is usually a little more purposeful in the dining room. It's a great way to make a huge statement and add a conversational piece to the mix. You can literally only add a fun chandelier, dining room table, rug, and your pull-down map and voila! You have a fully decorated dining room perfect for your family and friend gatherings.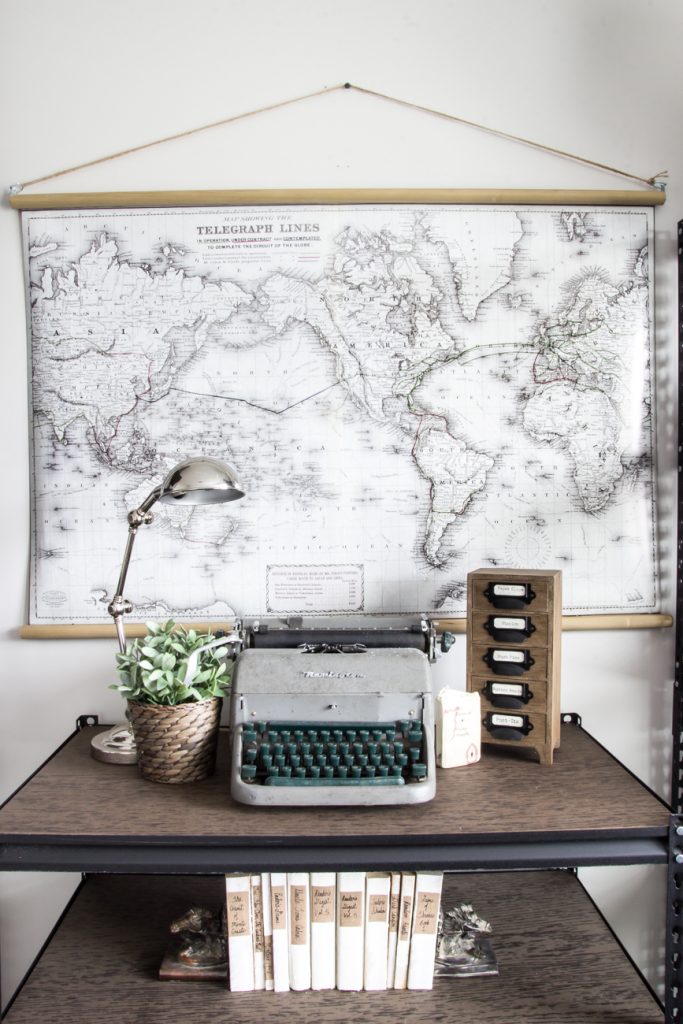 It also doesn't have to always be a pull-down map. You could find a different alternative to the pull-down wall decor trend. We have seen a lot of pull-down art that looks just as impressive!
6. Book Page Wall Decorating
Kitchen Wall Decorating with book pages may seem a little different but it's such a unique way to showcase your personality. You literally can tell everyone that enters your home a story that's unique to you and your family.
We have seen so many different variations of this and we love them all! We've even seen neat designs where you take pages from vintage kids' books and style them. Usually, the only kids' books that work for the kitchen are ones about cooking, tea time, etc. It's a little more on the playful side of this idea, but it's a great way to add a fun touch of color to your wall decor.
If kids' books aren't your thing, you could always try using pages from vintage cookbooks, your favorite bible pages, or inspirational books. We also love the idea of finding old books with botanical prints to create gorgeous wall art. You could even get really crazy and create a whole gallery wall of lots of books! See the example in the photo below:
Any of these would be the perfect addition to your space without being overpowering. It allows you to have a little piece of your favorites framed at all times. You can easily hang them up as a collage in a large frame or hang them individually spread out to fill the entire wall.
We hope you've enjoyed all these different ideas for kitchen wall decorating. It's not like the list ends there though. If you have some other ideas that we missed, please leave a comment below. We would love to hear all your ideas!