You know that feeling when you walk into a home where the home decor and furnishings just seem to shine and glimmer in the perfect way, especially in the kitchen space. While the home accents and decorative pieces one adds to their home is crucially important, lighting is the foundation that brings everything to "light". All you need are some farmhouse kitchen lighting ideas to get that same feeling radiating through your home.
When thinking about the mood and state of mind your home puts you in, lighting plays a crucial role in setting that positivity we're all striving for. We want to highlight the areas of our home where we and our guests spend most of our time. There is no better showcase area than the kitchen. All you need are some farmhouse kitchen lighting ideas to get started.
The kitchen is often considered the heart of the home. From an antique or vintage look, to more modern, there are tons of potential avenues for you to spruce up your farmhouse kitchen lighting. With this, you can really transform the look and feel of your kitchen with various lighting fixtures and elements to ensure that warm welcoming feel that will radiate through the rest of your home.
We've put together this guide around farmhouse kitchen lighting ideas to showcase different lighting fixtures that will not only illuminate your home to see what delicious food you're cooking, but to wow your friends and family!
1. Wire Hanging Pendant Light
With a beautiful caged-in look crafted from metal, a wire hanging pendant light is the perfect piece for that industrial rustic kitchen look many of us are going for! The sleek platinum finish really is a head-turner for any guests who walk into your kitchen.
The charm of this pendant light is brought to life with its LED light that truly brightens up your farmhouse kitchen when you flip a switch. All you need are three AAA batteries for it to work.
No chain is needed with this piece. Simply add a rope and you're good to go! We love this wire hanging pendant light and we think you will too!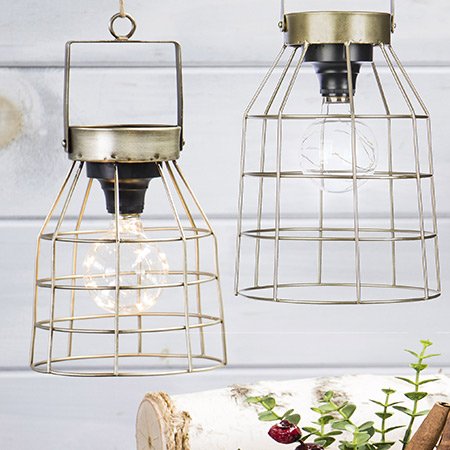 2. Metal Subway Light
As you can tell, we definitely have a strong affection for pendant lights. They seem to be the hottest trend in lighting fixtures.
The metal subway pendant light is a stunning antique-looking piece that we see in many farmhouse lovers' homes. The weathered, distressed look gives an original industrial look that steps back in time for a brief moment. The unique look is great for brightening up any breakfast nook or kitchen table that is missing a lighting accent to liven up the space. This is a stunning piece that would be a great addition to any home.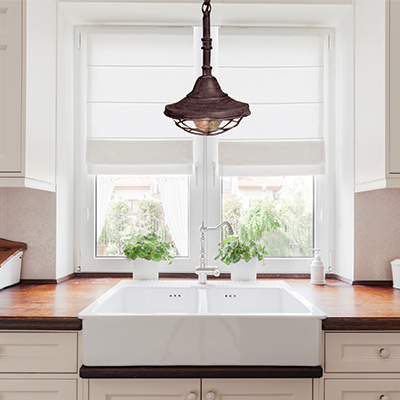 3. Metal Pot Farmhouse Light
Crafted from timeless aged metal, this metal pot farmhouse light is different from any other lighting fixture you may see. A true farmhouse lovers piece, this light fixture will bring so much of that vintage farmhouse character to your kitchen that you may never want to stop cooking!
The metal pot farmhouse light hangs from a rustic chain that adds to it's already unique character. The chippy distressed paint and rustic patina on top of the light will not go unnoticed (in the best possible way)! The size, uniqueness, rustic appeal, and even European charm make this light fixture a must for your kitchen.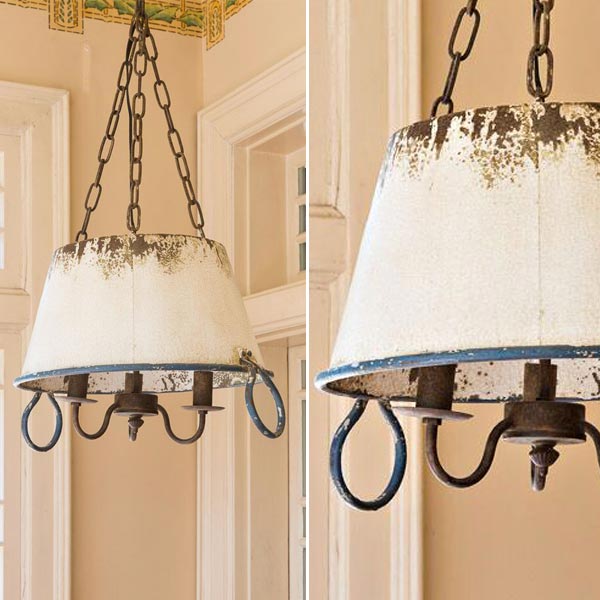 4. Steakhouse Light Fixture
A Decor Stealer favorite, the steakhouse light fixture is one of the most popular light fixtures we see in the farmhouse world right now! This trio of rusted finish light fixture is the perfect industrial piece that can hang beautifully over any kitchen island. If you ever thought your kitchen needed a little extra sprucing, this steakhouse light fixture will surely do the trick.
The unique structure of this fixture is immediately noticeable with it's distressed rusted wire screens. Another feature you will not see in many kitchen light fixtures is the gorgeous wooden support beams the fixture attaches itself to.
Hardwiring is required for this piece so we do recommend working with a licensed electrician to have the safest and best installation possible. Once that is over, we know you will be loving this steakhouse light fixture for years to come!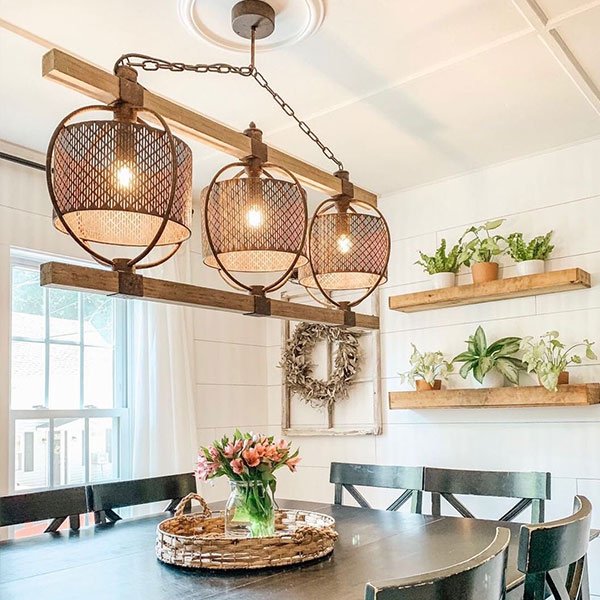 5. Industrial Chicken Feeder Light
Love at first sight! The industrial chicken feeder light is a fan favorite for farmhouse lovers. The best part...you can get it at a great price!
The distressed metal caged light stands out the most with it's weathered appearance. This gives it that industrial farmhouse look of a timeless classic. Can't you just picture yourself sitting down in your breakfast nook and looking up to see this beauty?
6. Distressed White Barn Pendant Light
Are you looking for that perfect vintage kitchen light charmer piece? Well, look no further than this distressed white barn pendant light.
The timeless dome-shaped and distressed finish brings the chic vibe full circle for any kitchen. It does need to be hardwired, so please work with a licensed electrician.
The white barn pendant light is a true differentiator for anyone looking to make a statement in their kitchen.
6. Five Light Metal Hanging Pendant
The light fixture you've been missing all along. This five-light metal hanging pendant is destined to bring that rustic look your kitchen needs.
The five hanging lamps are strung together using industrial-like piping that has become commonplace in homes. Actually, you even see this style in a lot of the restaurants you may frequent. We love to see this piece hanging above a kitchen island to make your entire space come to life for you and your guests. The size of this pendant is sure to stand out and light up the entire area.
Want to make cleaning up your kitchen and washing your dishes a little more enjoyable? Get this five-light metal hanging pendant in your home!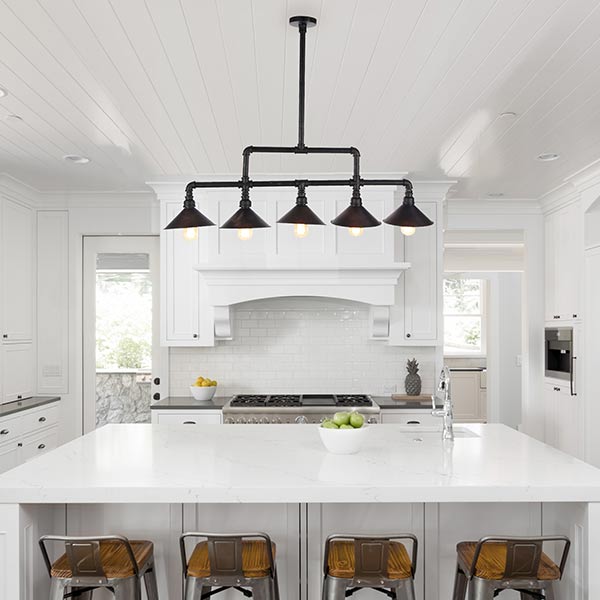 If you want a great foundation for your kitchen, there is no better place to start than the lighting. Use it to showcase everything you love about your kitchen design. If you want to go with a timeless kitchen, hanging a statement making light or chandelier in there is an easy way to play around with and express your style, but is easy enough to swap out in a few years if you tire of it or trends change. As you will see, the whole space gets an immediate facelift.
Hopefully, this guide around different farmhouse kitchen lighting ideas and fixtures will give you everything you need to start loving your kitchen more than ever!