Halloween is just a couple weeks away and we don't know about you, but we are getting SOOO excited! Lately, we have been flooded with Instagram and Facebook posts from all of you and we are always in awe at your holiday decor. Even though we are constantly surrounded by home design products here, y'all are the real designers! We couldn't think of a better way to celebrate Halloween than with your INCREDIBLE homes! Even though we have many more, here are a few of our favorite SPOOKY homes!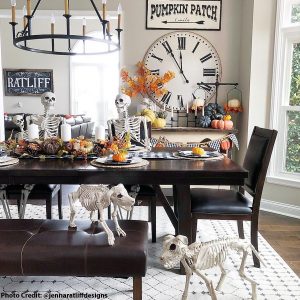 We are LOVING the use of skeletons into your home decor to easily give it a spooky element! Plus your kiddos will probably think this is so fun! Who doesn't want to have dinner with a skeleton during the month of October!? This gorgeous space is from @jennaratliffdesigns. You can follow her on Instagram for more inspiration and we are loving how she incorporated one of our favorite Decor Steals pieces...the
decorative iron scale
.
So a trend we've been noticing everywhere this year is the use of bats on the wall! We love this idea as an addition to your decor and it's a simple way to give your home all the creepy feels of Halloween! Oh and look! Looks like @gramsfarmhouse is also using our
decorative iron scale
in this space!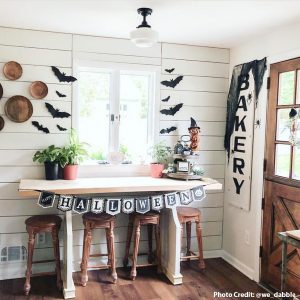 More bats make an appearance in our next favorite space by @we_dabble! We are loving the shiplap mixed with the old farmhouse wood tones and how she is using our
bakery sign
is PERFECTION! Simply add some black mesh to any of the signs in your home to have them Halloween ready.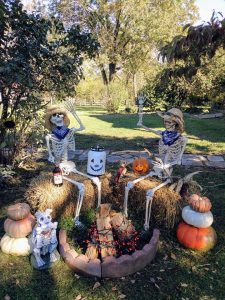 More skeletons are popping up and this time they are gathered around the firepit! This set up by Kelly Mulick is so creative and is using our
re-purposed propane tank pumpkin
so well. We love the addition of cowboy hats and haystacks! We may just have to mimic this one for our backyards.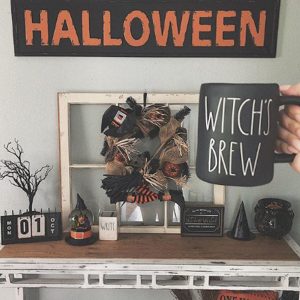 Last but certainly not least, we are obsessing over how festive @meggy is with her Halloween decor. From our
Halloween sign
hanging on the wall to the witch's brew mug...everything about this space has us feeling spooky good! So if you haven't whipped out the Halloween decor yet, it's not too late!! You still have a couple weeks and taking elements from these amazing homes above will help you achieve the perfect SPOOK-TACULAR decor!