It's officially Fall and officially time to switch over from your summer interior decor to the crispt warm tones of autumn! Fall just brings all the feels...and it doesn't have to be a daunting task to think about switching out your decor or adding to it to get ready for the season. We've got some easy ways to update your home that won't break the bank while easing your stress of knowing where to start. 1. Start with your front door! Add a decorative wreath that already sets the tone for how you want the inside to feel. Try a
magnolia wreath
,
cotton wreath
, or even the more festive
curly vine magnolia wreath
.
2. Add a scented candle like vanilla bean, caramel apple spice, or even harvest. There are literally endless possibilities for sents and not to be biased, but fall sents may be our favorite for making a house feel like a cozy oasis. 3. Overindulge on pumpkins and guards.  These are THE best and most cost-effective way to fill your home with touches of the season. Plus they are extremely versatile and great for those who want some simple DIY projects. If DIY isn't your thing though, we've come across these incredibly unique
repurposed propane tank pumpkins
! 4. Garland, garland, GARLAND! Garland is always a good idea and what's so amazing about it is that you can literally add it anywhere! It's the perfect final touch to your tablescapes, an effortless centrepiece, and a simple way to tie everything together. We are loving this
magnolia leaf garland
because it's perfect for keeping out all year round. You can add
cotton stems
to it in the fall or even holy during the holidays. If you are looking for more of those warm fall tones, then this
pumpkin leaves garland
is the ONLY way to go!
5. Fresh baked goods! Let's face it, once the fall season rolls around a part of those diets from the summer seem to fade away. It's okay to indulge in your favorite fall dishes as long as you don't eat the whole thing...or do LOL no judgements here! The aroma you get in your home from homemade dishes just doesn't compare to anything else. Try this recipe for
Cinnamon- Sugar Pull Apart Pumpkin Bread
that we are drooling over!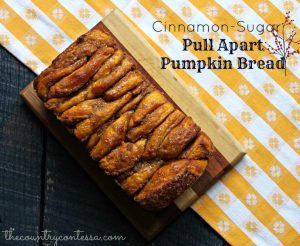 Ingredients:
For the dough
2

 

tablespoons

 

browned butter*

 

see note

½

 

cup

 

milk

1

 

package active dry yeast

¼

 

cup

 

white sugar

3/4

 

cup

 

pureed pumpkin

 

not pumpkin pie filling

1

 

teaspoon

 

salt

2½

 

cups all-purpose flour
For the filling
1

 

cup

 

granulated sugar

2

 

teaspoons

 

ground cinnamon

¼

 

teaspoon

 

pumpkin pie spice

2

 

tablespoons

 

browned butter
For the buttered glaze
2

 

tablespoons

 

browned butter

2

 

tablespoons

 

brown sugar

1½

 

tablespoons

 

milk

¾

 

cup

 

powdered sugar

1

 

teaspoon

 

vanilla extract
Instructions:
Brown the butter in a saucepan over medium-high heat, stirring frequently and being careful not to burn it. About 5 minutes.

Remove from the heat and leave 2 tablespoons in the pan and add milk; heat over medium one minute until the liquid is warm but not hot.

Pour the milk and butter into the bowl of a stand mixer or bowl and add the yeast and sugar. Stir to dissolve and let sit for 5 minutes.

Add the pumpkin, salt and 1 cup of flour and mix until combined. Add the rest of the flour ½ cup at a time until it's all combined and mix on medium for 6 minutes or by hand until the dough is smooth and elastic and just slightly sticky.

Transfer to an oiled bowl and allow to rise in a warm place until doubled in size, 1 hour.

While the dough rises, mix 2 more tablespoons of the butter with the sugar, cinnamon, and pumpkin pie spice; mix well and set aside.

When the dough is doubled, turn it out onto a floured board and knead until smooth and elastic, about 1-2 minutes. Allow to rest 5 minutes before rolling or it will snap back.

Roll to a 20x12 inch rectangle and cover with the butter-sugar filling; pressing down with your hands so the filling sticks somewhat.

Cut the rectangle into six strips, then lay strips on top of each other and cut into 6 even squares.

Stack squares vertically in a greased loaf pan. Cover with a clean towel and rise 45 minutes.

Bake in a 350 degree preheated oven 35-40 minutes. Glaze while warm.

For the glaze: mix remaining butter with brown sugar, vanilla and powdered sugar in a saucepan. Bring to a boil and cook for one minute, then remove from heat. Drizzle over bread.

Allow bread to sit in the pan 5 minutes, then loosen with a knife and turn out to cool.