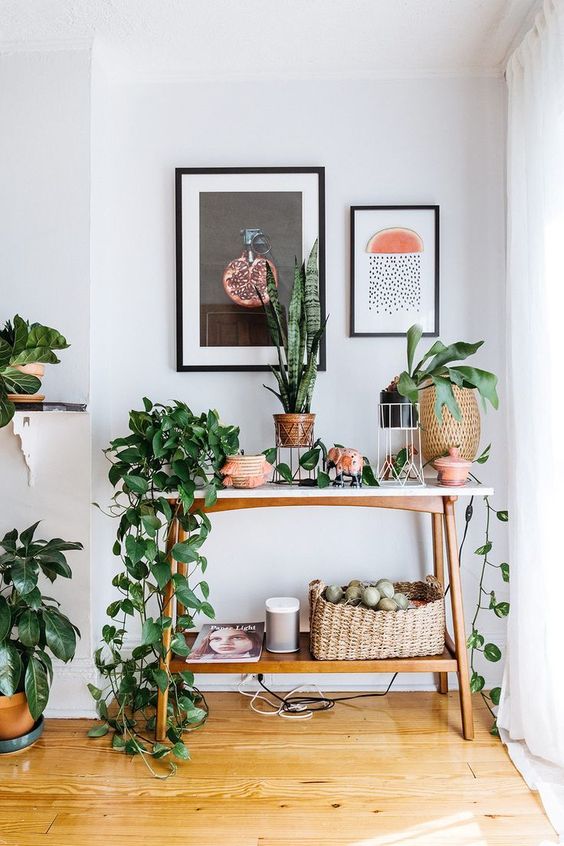 Whether your a plant enthusiast or a wannabe green thumb expert, we could all use a proper drainage tutorial for potted plants. Not all potted plants have drainage holes, so it can be a little daunting when you aren't sure what the proper care is for your plants to stay healthy. We are here to help with a how-to on potting your plants in containers without drainage holes. A little scary right? We understand! The video below is of us potting plants before we decided to dive deeper into this very important topic....and it's not pretty!
Proper drainage is essential to ensure your plants stay healthy. It keeps water from pooling at the base of your pot, which can cause problems such a bacteria, fungus, and root rotting.
The good news is that even your favorite pots without drainage holes can be a happy home for your plant! With a little proper care and some easy work, you can create the perfect place for your beautiful plants.
It doesn't matter what type of container you use. You could use terra cotta planters, hand-painted pots, and even a glass jar! Clear containers are a great option if you want to see the layers of your plant and go for a more authentic approach.
In order to properly pot your plants, here's what you'll need:
A container or pot
Landscape rocks
Horticultural charcoal
Potting soil
All these items are super easy to find at your local home improvement store or garden center! Once you have all these items, simply follow the steps below and it's that simple!
STEP ONE
You'll start by layering the landscape rocks at the bottom of your chosen container. You'll evenly cover the base by filling it about 2-3 inches high! The rocks you use can be any landscape rock. For those using a glass jar, this is a great way to give your potted plant some personality.
STEP TWO
Now you are on to the second layer of your potted plant. For the second layer, add some horticultural charcoal on top of your landscape rocks. This layer of horticultural charcoal will be a thinner layer than your first layer. Allow the tops of your rocks to still show through once you have finished adding your charcoal. The charcoal is essential because it helps assist in draining, absorbing moisture, conditioning the soil and adds nutrients for your plant's roots. It also helps with keeping order assisting bacteria to form.
STEP THREE
Now you'll start on your third layer. Start by filling this layer with your potting soil. You'll want to fill up your container about halfway unless you need more soil based on the size of your plant. This layer will mostly be based on the size of your container and the size of your plant. The larger your plant the more soil you will need in order for it to establish its root system.
STEP FOUR
Once you've added your soil, shake the excess soil off when transferring your plant from its previous container. Be careful not to damage the roots of your plant. It's important that the roots stay intact. You'll want to place the plant directly into the new container without disturbing the plant's natural root system.
STEP FIVE
Next, you'll begin to fill the empty areas around the roots of your plant with more soil. You'll want to make sure you fill in every spot, pressing down to make sure the plant is placed firmly into the new pot. If the plant is loose it won't be able to stay as healthy. If roots aren't completely covered in soil, then add more! More, more, more until all roots are covered!
Once you've completed all these steps, your plant is ready to go! You can now water your plant with the proper drainage system in place. Even though you've set your plant up for success, you'll want to be sure not to overwater. When you purchase your new plant, you'll want to ask your local garden center for the proper care instructions.
If you are planting larger plants be sure to keep in mind that you will most likely need to add a lot more material per layer. You'll want to tailor to your specific plant and specific container.
If you are looking for some great pots for planting, we have a list of a few we think you'll love!
+ Terrace Planters, Set of 3
+ Antique Finish Patina Planters, Set of 3
We've also included a video below from West Coast Gardens that walks you through the process!
If you have any more questions about potting plants without drainage holes, let us know in the comments below! Also, let us know in the comments if you have any other different methods and tag us in your photos on Instagram using our pots for your plants!