Halloween is just around the corner, and it's time to conjure up some spooktacular decor for your home! If you're lucky enough to have the 2023 Celebrate Halloween Steal It Box, you're in for a treat. If you haven't secured your box yet... be sure to get yours NOW, they are ALMOST sold out! Packed full of festive decor, this box includes a versatile cauldron that can be used in countless creative ways. One of our FAVORITE things about this Steal It Box are the ENDLESS possibilities for DIY creative displays! In this blog, we'll explore some bewitching ideas for making the most of this enchanting cauldron centerpiece.

1. Cauldron Planter:
Creating a cauldron planter is a fantastic way to blend the eerie allure of Halloween with the natural beauty of fall. Start by selecting plants that complement the spooky theme. Consider using orange and black faux florals or real plants with dark foliage like purple fountain grass. Fill the cauldron with potting soil and arrange your chosen plants inside. You can even keep it super simple by just adding an already potted mum inside - the colors are sure to pop!
Don't forget to add a few decorative touches like mini tombstones, tiny witches' brooms, or faux spiderwebs to enhance the Halloween vibe. Place the cauldron planter on your porch, next to your doorstep, or even indoors for a bewitching focal point.

@lynfinite.loves



@harleysteedinteriors
2. Bubble Ornaments Inside:
The bubble ornament idea (one of our personal FAVORITES) is all about creating an enchanting atmosphere that captures the essence of a witch's cauldron. There are SO many ways you can achieve this fun look. You can easily find iridescent bubble ornaments at craft stores or online. Place some Styrofoam inside of your cauldron and then simply start gluing your ornaments to the foam, strategically stacking them to create height and depth... you can even have them cascading from the sides of the cauldron like it's overflowing! Alternatively, make your own (even more creative) bubbles by taking clear plastic ornaments and filling them with a mixture of water and food coloring or glitter. When you place battery-operated LED lights at the bottom of the cauldron, the ornaments will appear to be floating within, casting a spellbinding glow. How fun! 

Check out the super easy tutorial from @the_enchanted_home_ using our cauldron from the Halloween Steal It Box below!


And be sure to check out how 
@thiscolorfulhouse created the cutest and spookiest bubble bath for her skeleton in the video above... the fun is limitless!



3. Dry Ice or Smoke Machine:
Transform your space into a haunted mansion by using the cauldron as a vessel for dry ice or a smoke machine. Dry ice creates an eerie, low-lying fog effect that is perfect for Halloween. To use it safely, wear gloves and tongs to place dry ice pellets or chunks into the cauldron. Pour warm water over the dry ice, and watch as thick, fog-like vapor cascades out of the cauldron. Alternatively, a small smoke machine can be placed inside the cauldron to achieve a similar effect. This ghostly ambiance will give your Halloween party an unforgettable atmosphere.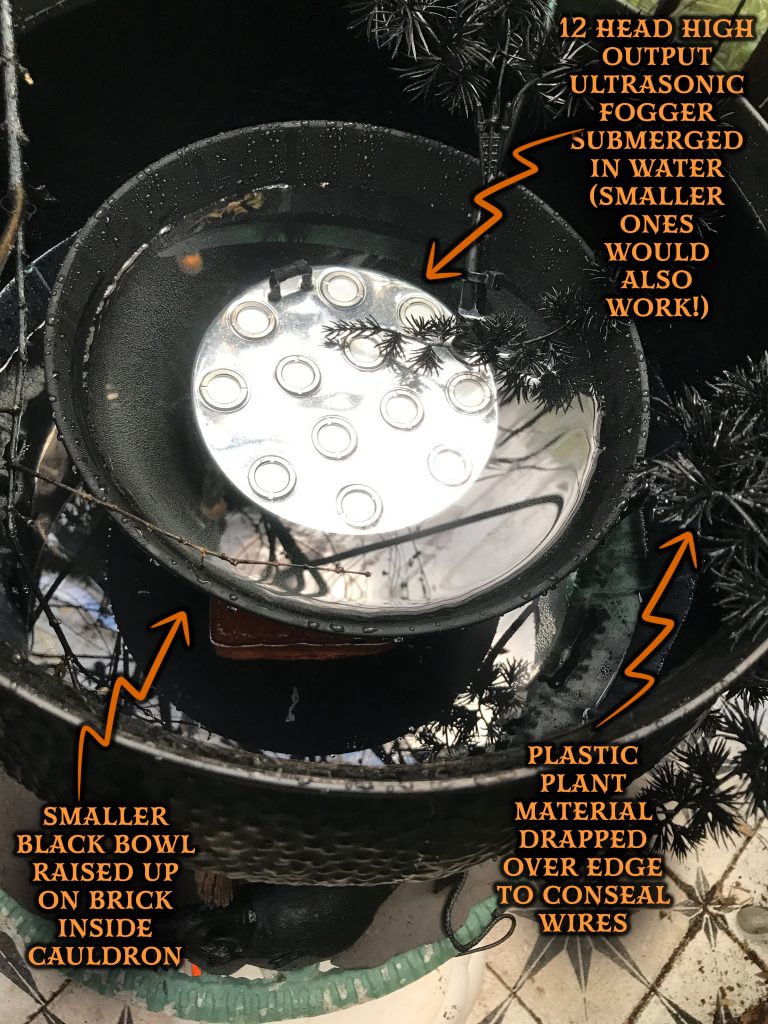 4. Moss and Lights:
Transform your cauldron into a mystical object right out of a fairy tale by filling it with moss and adding string lights. We even love the idea of applying glue to the cauldron's exterior and attaching clumps of faux moss... just like it's been sitting in the middle of the woods for ages! Next, wind string lights around the mossy cauldron, letting the warm, twinkling lights shine through the moss. You can go even further by adding plastic skulls inside and logs beneath it to give an even more eerie and realistic look! Place the cauldron on its pedestal or a side table to give it prominence. This charming and whimsical decoration will cast a spell of enchantment over your space.
Check out how our friend @ncmodernfarmhousedesign did hers in this awesome tutorial video!


5. Candy Dish for Trick or Treaters:
Ensure that your cauldron plays a role in spreading Halloween joy by turning it into a candy dish. Fill it with an assortment of candies and treats that will delight the little ghouls and goblins who come knocking at your door. You can also add some fun and spooky elements, like plastic spiders, candy eyeballs, or gummy worms, to enhance the Halloween theme. To encourage self-service and maintain a safe distance, place the cauldron on a table near your entrance and include a sign or a witch's hat with a friendly message like "Help Yourself to Some Magic Treats." Remember, we even offer EXTRA floating witches and skeleton bats to enhance your space even more! 
These creative ideas for using the cauldron from the 2023 Celebrate Halloween Steal It Box will help you craft a spellbinding and enchanting Halloween decor that will leave your guests and trick-or-treaters spellbound. Whether you choose to create an eerie atmosphere or add a whimsical touch to your space, this versatile cauldron is the perfect centerpiece for a hauntingly good time. Happy decorating and have a bewitching Halloween!