Okay...let's talk about mudroom storage! Your mudroom is the catch-all and your go-to place for everyone in your family to grab and go. It's the space that gets the most traction, but sometimes not the right attention. Creating a mudroom that is both functional and homey isn't the easiest to achieve. Especially when keeping the space organized while still being able to house all your family's needs is a challenge. WE FEEL YOUR PAIN!
Today, we are going to give you some sure-fire ways to increase your mudroom storage while still keeping it homey and fun!
1. Mudroom Storage Built-Ins
Mudroom built-ins are your new best friend! Not everyone has a new build home with the beautiful pre-built cubbies that perfectly organize the space. Have no fear! You can easily get your hands a little dirty and build your own dream mudroom space. Check out the video from Lowe's below on how to create your very own built-ins.
2. Baskets Galore
If you only get one takeaway from this article, it should be that baskets will change your life! They hide the chaos of the drop zone and are a simple way to keep true to your style. You can easily incorporate the homey feel to your storage solutions by adding seagrass baskets, metal locker baskets, or even fun colored wicker or fabric baskets. You can never have enough of them to hold all your items and they do a great job of keeping your overall space looking clean and put together. That's a win!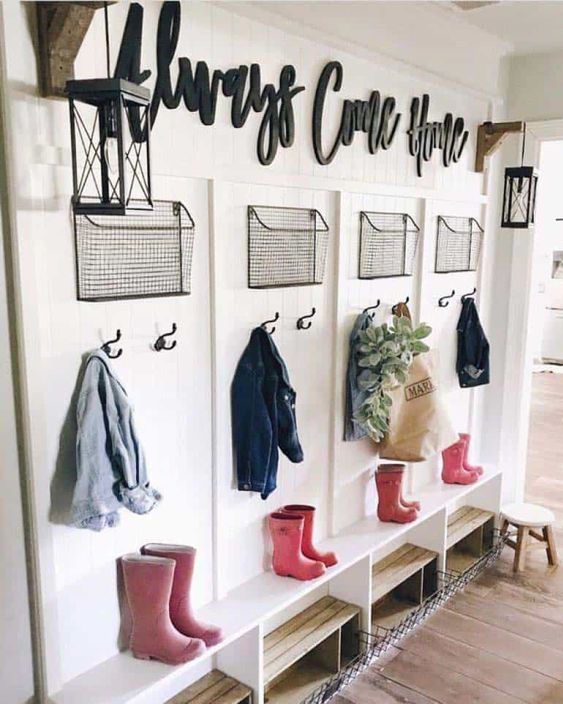 3. Mudroom Storage Hooks
Who doesn't love hooks to hang their bag, jacket, or keys after a long day? This storage solution is where you can truly bring your personal style into the mix. This solution is great if you have pre-determined sections of your mudroom for each family member. They are also just a great way to make small spaces functional. When adding hooks, keep the items you have on display to a minimum though. You don't want to have your space overrun with your grab and go items. Make sure you have enough hooks to hold your items and still designate some hooks for stylish display pieces!
Hooks are fun and a great way to add your personality to the room. Opt for copper hooks if you are starting to bring the copper trend into other places of your home. It's a simple update that you can easily change with the trends later!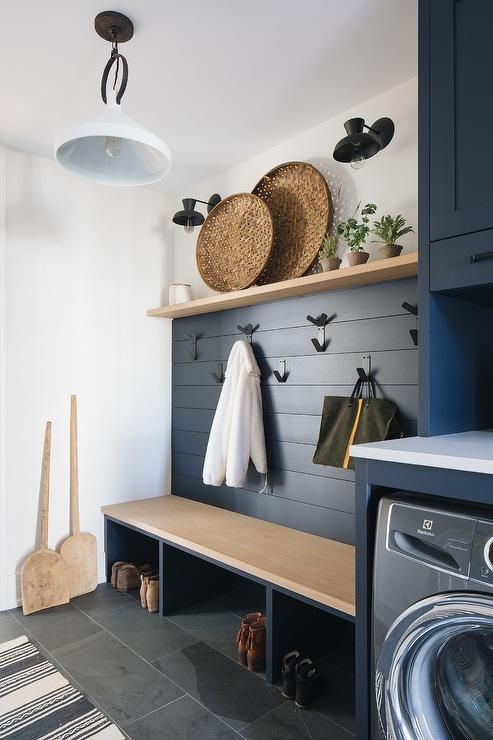 4. Mudroom Shoe Rack
Mudroom storage comes in many forms but one thing is FOR SURE....shoes are always inhabiting the mudroom. Creating a specific shoe station for all your family's shoes is always a good idea! Create individual shoe cubbies for each family member or create a built-in wall rack specifically for shoes. Okay, but let's face it...shoe racks aren't always the MOST attractive addition to your mudroom right? Try adding some mini curtains to your open cubbies to hide the chaos or even use cabinet space for shoes to keep them hidden.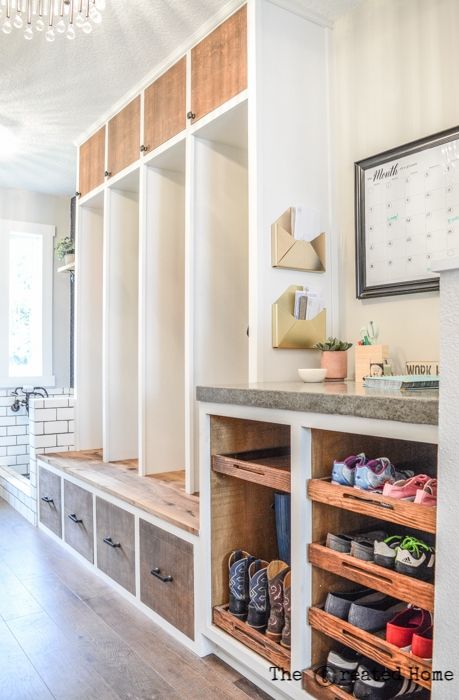 5. Stylish Shelving
Kick up your mudroom storage style with a little floating shelving. This increases your storage by building up and adds to the dimension and overall character of the space. If you are looking to keep that homey feel, stylish shelving is THE perfect option. You can easily add in wood stained shelves or maybe a more industrial metal shelving is more your thing. Either way, you'll be able to create more mudroom storage without having to compromise on aesthetics.
There are many ways to make your mudroom homey and it's not only about the storage. It's about bringing to life the personality of your space and creating a welcoming entry to love coming home to. Below are some more inspirational examples to help spark your mudroom ideas.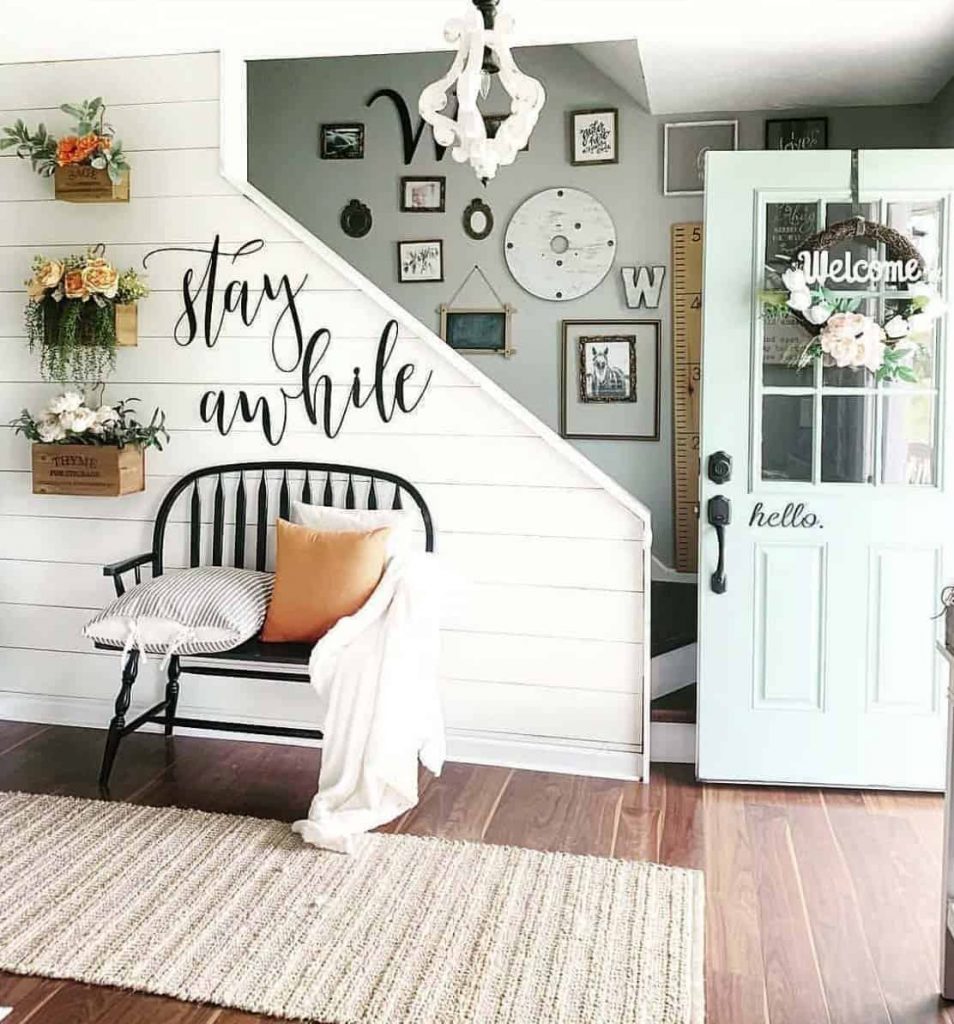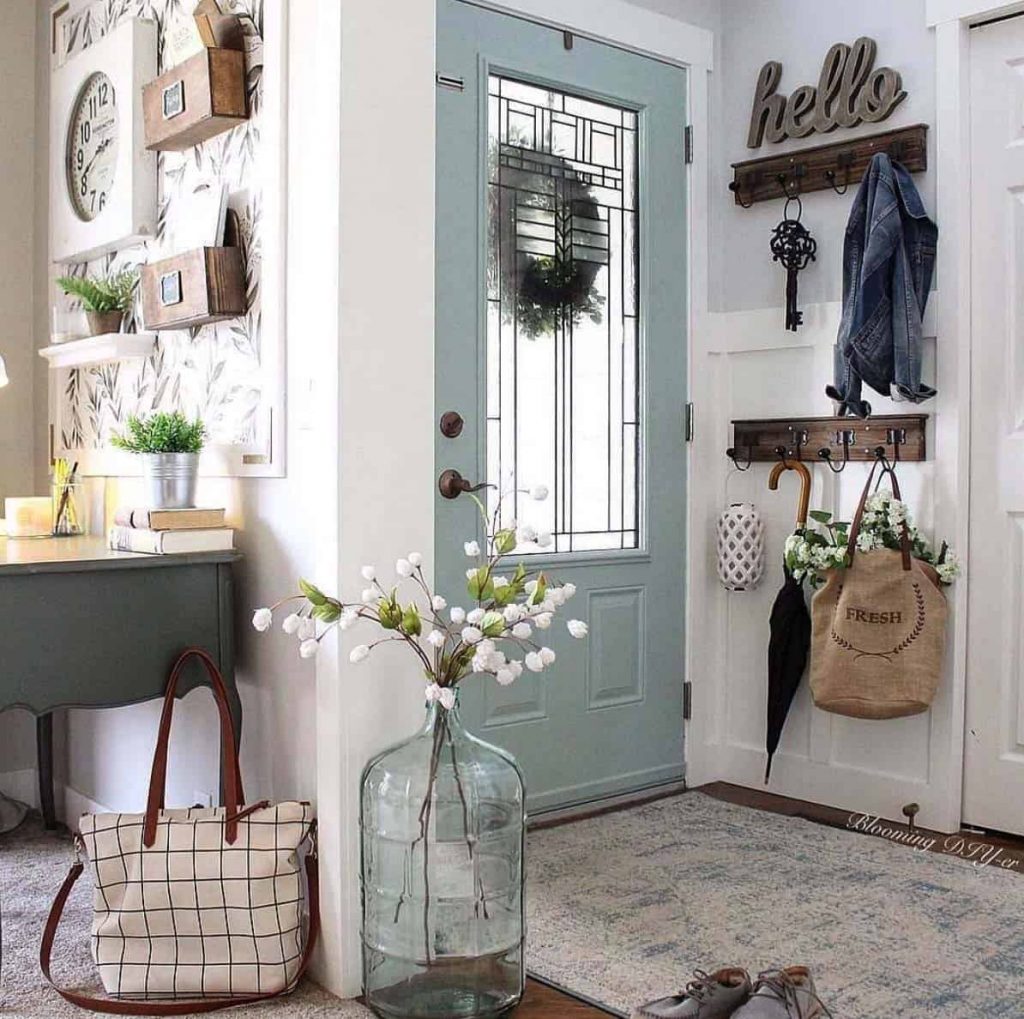 In the comments below, tell us what your favorite takeaway was from this post and also share with us your ideas on adding mudroom storage that's still homey!