You are here because you are searching for the perfect modern farmhouse paint color, and we are here to help you! Paint color is a form of expression. A way to express ourselves and share our design style with the world. It sheds its beauty and tells a different story to everyone. This may be why selecting a paint color can seem like such a heavy initiative. The truth of the matter is, paint can change with you. It can also truly transform the look and feel of your home with minimal effort and cost.

Don't be daunted with the worry of choosing a paint color that suits your modern farmhouse style. We have compiled a list of the top trending paint colors to take the guess work out. You can easily find the color that suits your home along with one that suits your personality. Don't compromise on either! That's how you find the perfect one!

Keep in mind that a combination of colors throughout your home along with accent colors will really take your style to new heights.
Modern Farmhouse Whites
We're starting our paint journey off with whites. Whites are very common in most households and the perfect way to extend the natural light that shines through your space. Gleaming white walls all throughout your home can be a little scary...we get it! Dogs, kids, and even adults can stand in the way of keeping that pearly white look. That's why we've stuck to a couple whites that are not only durable; but also forgivable. These colors aren't stark white either so the dirt is a little less easily noticed.
1. Snowbound Paint Color from Sherwin Williams
This white is simply stunning. There is no other way to put it! It's perfect for those of you that really want the all-white look but prefer a slight hint of color in there. It's got body without being bold in any way. Your home will be a blank slate for your modern farmhouse vision to come to life! See below a photo of it being used on the walls of this kitchen.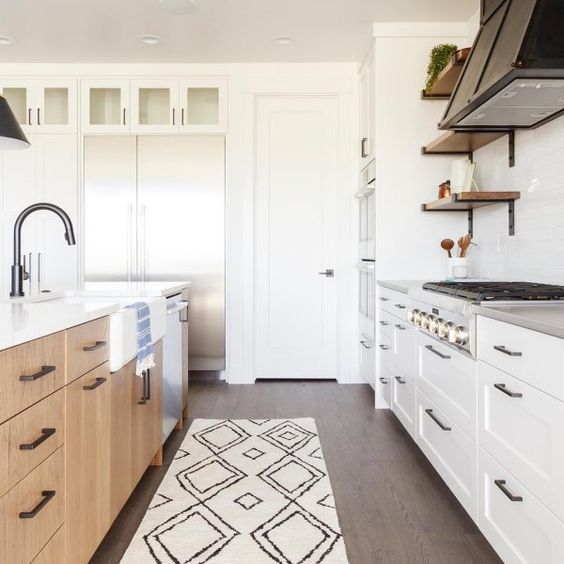 Looking for a knockout runner rug or just rugs in general? Look no further, we've got you covered. Click here to shop rugs!
2. Alabaster Paint Color from Sherwin Williams
Ah, the graceful neutral elegance of Alabaster white! It's such an iconic paint color and for good reason. This color has been used a number of times on the show Fixer Upper, along with being a top selling color for years now. It's special because it truly never goes out of style. As your decor shifts, this color will shift along with it. It also makes for a great option when choosing colors for your shiplap accent walls...just saying! Check out the photo below to see how it looks on the walls.
3. White Down Paint Color from Sherwin Williams
Okay, so this a color you can instantly fell in love with. It's got a warm hint to it but still brings out a very heavy white. It's a great white for your accents and an even greater white for your cabinets! It's quite possibly the best choice if you are looking to do two-toned cabinets. This trending look is easy to accomplish and lets you get creative. Check out the photo below to see just how well this color plays with others.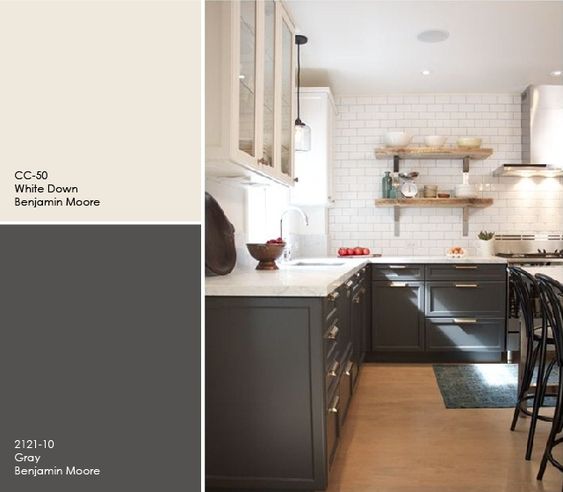 Modern Farmhouse Beiges
We all know whites aren't the only option when it comes to your paint selection. Especially if you are trying to achieve the perfect modern farmhouse look. Beige is a great option! Especially for those of you that love a distinct contrast from your baseboards to your walls. Beiges are also a gratifying choice for those of you who love warm cozy hues.
1. Accessible Beige Paint Color from Sherwin Williams
The calming and restoring nature of this color makes it easy to gravitate to. Not only does it have warm undertones, but its classic shade creates a unifying look effortlessly. It's the perfect beige to allow for natural light to continue to flow, While also creating a warm and inviting feel. See how it looks on these bedroom walls in the photo below.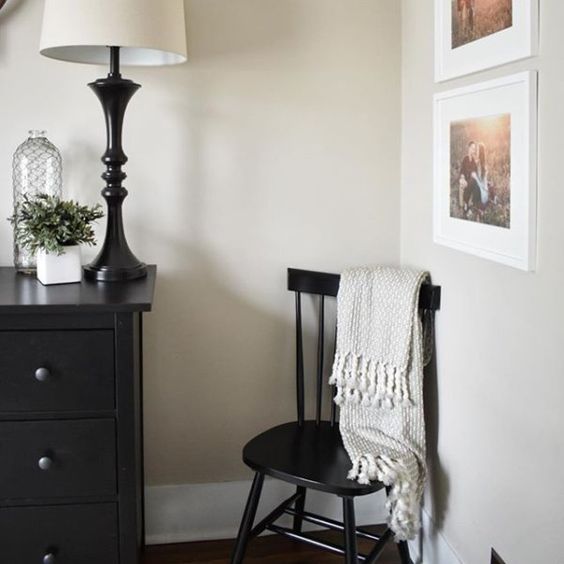 2. Edgecomb Gray Paint Color Benjamin Moore
Don't let gray in the name fool you! This edgecomb gray might channel some gray elements, but it's a beige in our book. It's the perfect modern farmhouse paint color for many reasons, but we'll let you be the judge. With it's earthy and organic nature, this soft and stylish beige is timeless with a modern edge. It has the ability to get distinctly personal, yet mold to any space you choose to use it. See how it looks paired with cloud white from Benjamin Moore in the photo below.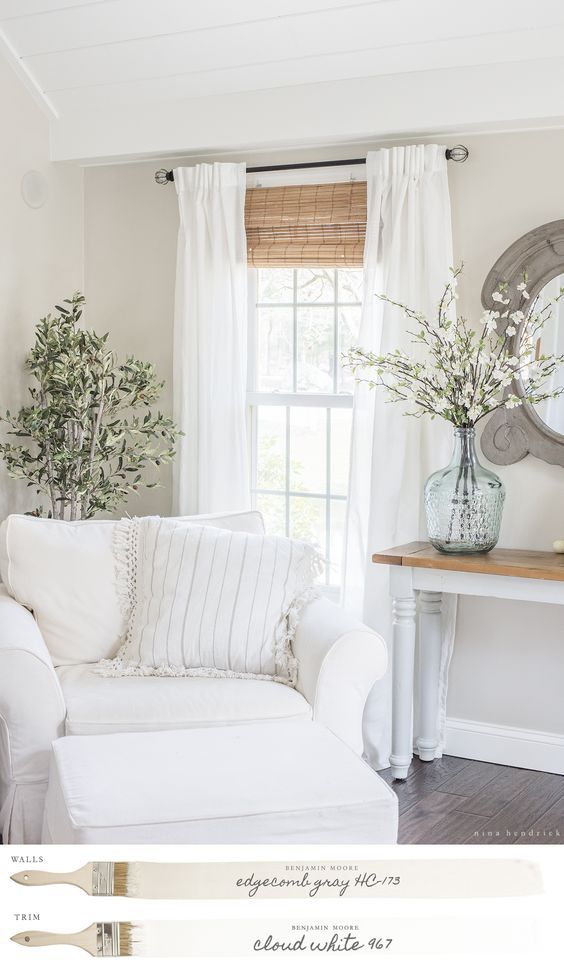 Also, If you are looking for a similar demijohn bottle to the one above to get this look, we've got you covered. Shop Decor Steals honeycomb demijohn bottle!
Modern Farmhouse Grays
The choice between a gray and beige is simple. It all has to do with the natural hues around you that already make up your home. Take a look at the overall aesthetic and the way you want the colors from the light to bounce of the walls. If you already have a lot of gray undertones, clean lines, and a less rustic look, then gray may be for you. Take a look at the colors in your home and be sure to take samples home to compare the different color options for paint. See what brings the colors you already have in your home to life vs muddling them down or creating too much contrast.
1. Light French Gray from Sherwin Williams
Let's start our grays off with a bit more depth! If you are looking for a medium-light gray color with good balance, then light french gray is the perfect fit. It's a bit moodier than the previous colors above and has a slighter lower LRV. This means that the amount of light that bounces off this color is a little less than some other grays and some of the lighter colors we've mentioned above. Choosing this color means that you have a good amount of natural light and most likely have very heavily contrasting white elements in your home.

Check out the video below where Kylie M Interiors does a review on this exquisite color. She also goes into a little more depth on choosing the right gray for you!
Also, take a look at how the color looks in this natural lite bathroom. Beautiful with the white wainscoting.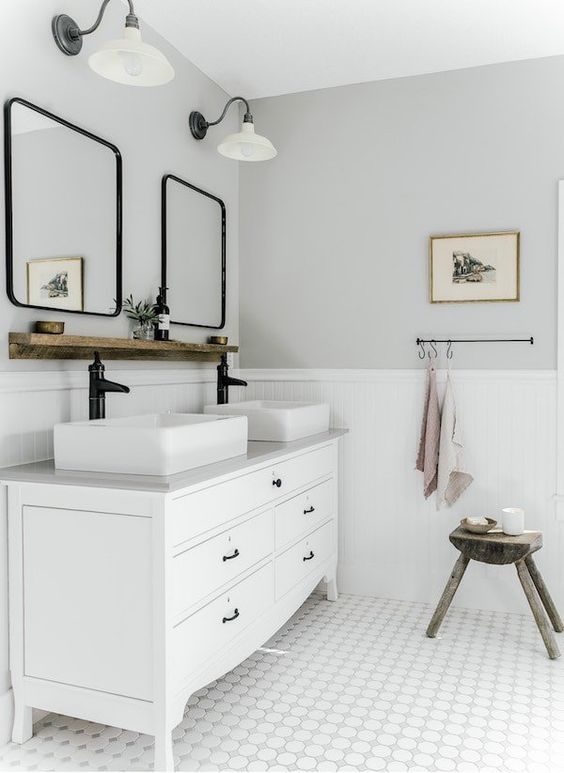 2. Mindful Gray from Sherwin Williams
Like it's fellow modern farmhouse paint partner above, this variation is a bit more on the moody side. It's packed with a lot of earthy punch and gives off a green undertone. beyond that, it's a lovely gray for those of us with a strong abundance of natural light. This color can take on many forms depending on the light and that's the true beauty of it. You'll fall in love with the way it plays up your modern farmhouse decor. See the photo below to see how it looks on the walls!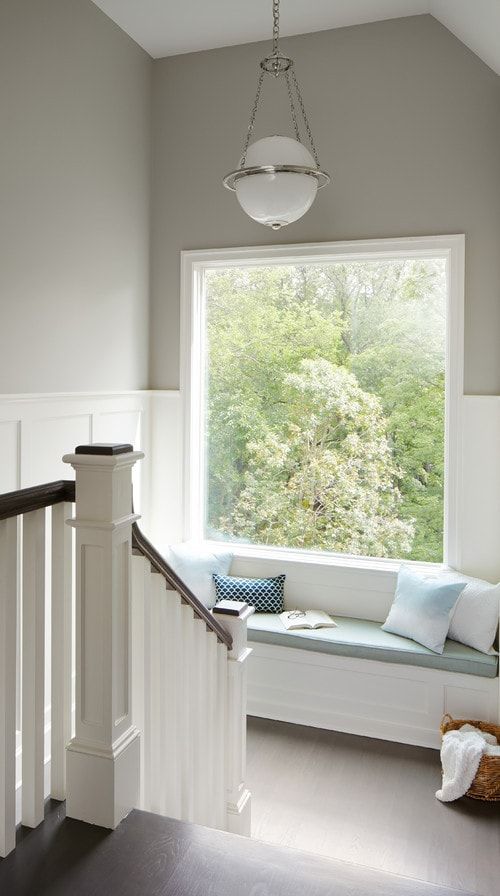 Loving the basket you see in this photo? Try recreating this look with our Striped Canvas Baskets, Set of 3. Like picking a paint color, finding the right basket can sometimes be equally as important.
Modern Farmhouse Blues
Last but certainly not least are our blue hues. Taking on a more dramatic approach, blues can be just as calming as they are chatty. Filling your walls with the allure of a dreamlike essence and bringing your walls to life. Blues are a great option for those living in a coastal setting or even for the more poetic designer. Blue walls can truly tell a personal story and make the perfect accent paint color for those who aren't so sure about going all in. Like we mentioned above, modern farmhouse paint color doesn't stop at the walls. dramatic accents are just as appreciated.
1. Blue Note from Bejamin Moore
Looking to add drama to your home, this modern farmhouse paint color is truly a hit. Uplifting and bold, it's got exactly what you need for that wow factor. Don't let it take over your whole home, but this mighty paint color has what it takes to be the best option for your accent walls, kitchen cabinets, and paneled walls. We love some of the different uses we have seen for this gorgeous color and it's so inspiring! Check out the photos below with two different variations on how to use this color.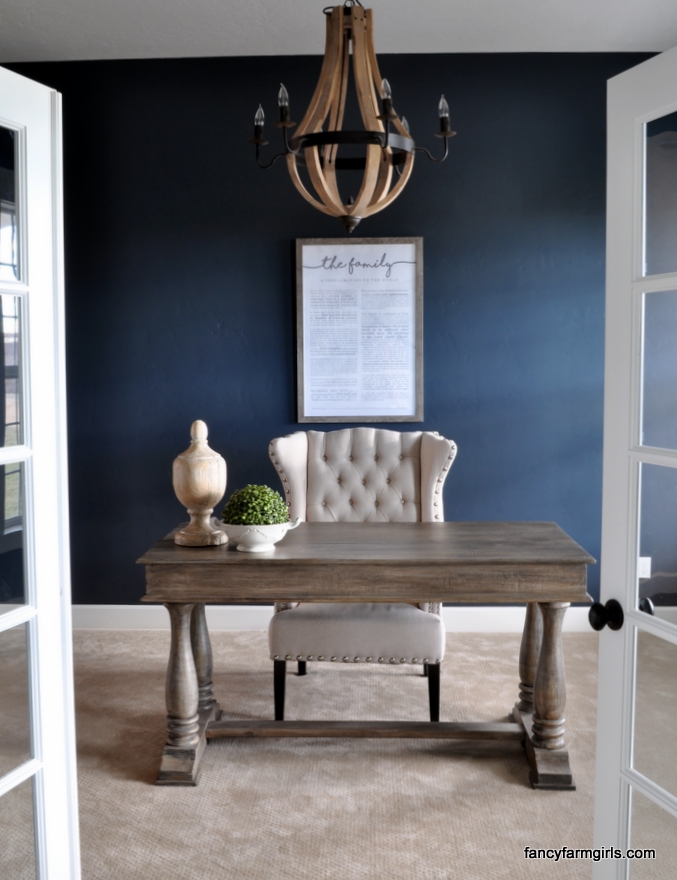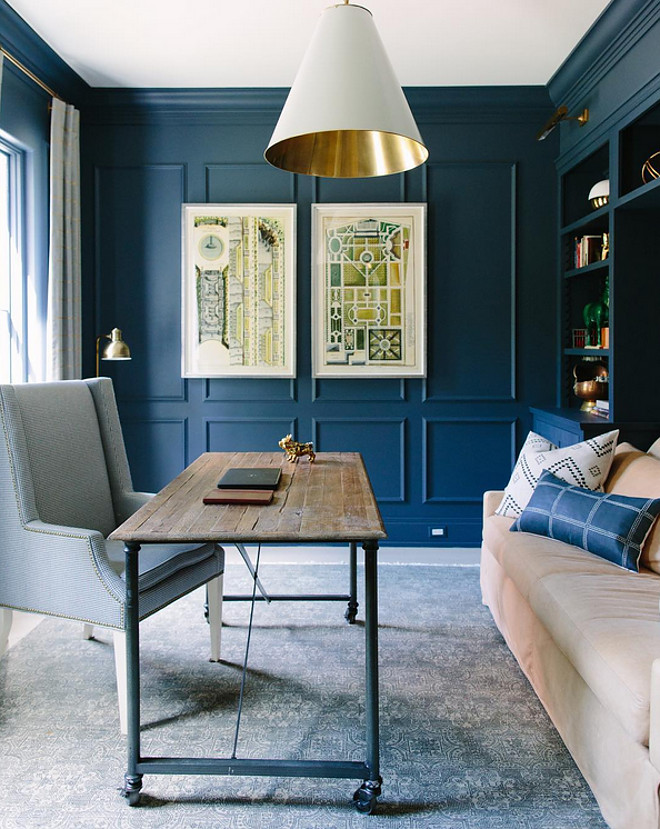 2. Stardew from Sherwin Williams
The last of our blues is this striking color from Sherwin Williams. We love this modern farmhouse paint color for many reasons. One, It's got a tremendous amount of style and the possibilities for this spunky color are endless. With an inspiring amount of people already using this color in their home, it's got to be our most popular color on the list! Upgrade your look with just a gallon of this color. Use it to give your kitchen cabinets a new spin or add it as an accent wall in your dining room. Check out the photos below for some incredible uses of this blue.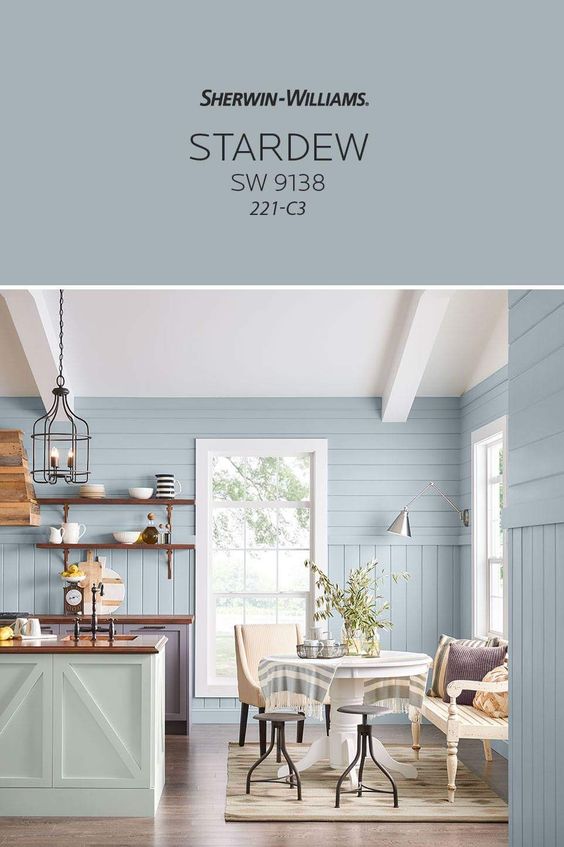 Are you on the hunt for some lighting similar to the ones above? check out our collection of lighting by clicking here!
To conclude, we've enjoyed bringing you the hottest trends in modern farmhouse paint colors and we hope you did too! Hopefully, you find inspiration from this post and take it with you in your next project. Let us know in the comments below what your favorite color was and what you are excited about changing up in your home. Also, if we missed any of your favorite colors, let us know! We are always on the hunt for incredible colors that elevate your home.