With the holidays upon us, we wanted to bring you a range of bar cart ideas to make your statement piece something beautiful and functional.
Bar carts come in a range of styles, colors and materials. The one constant is that they bring a certain festive and sophisticated vibe to your space.
While a bar cart filled with spirits, mixers and bar tools is fabulous, fear not-- we also have some bar cart ideas for those of you who don't drink, or are throwing a more family friendly gathering!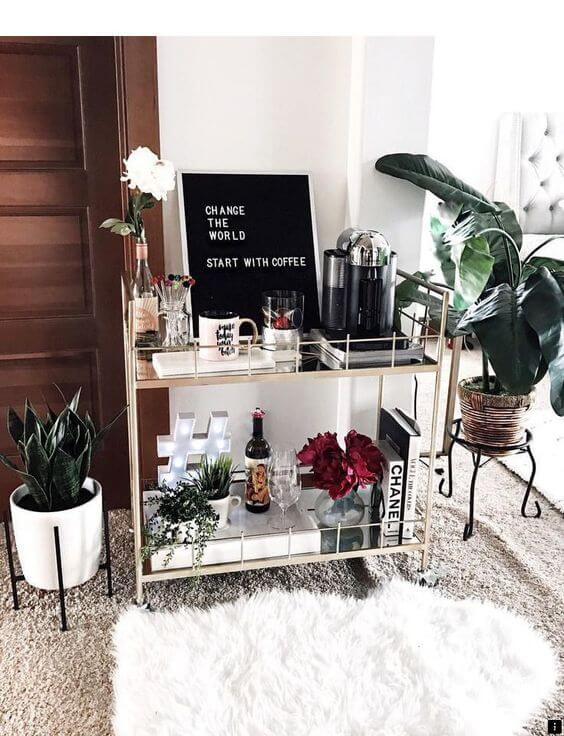 Cart on Wheels
One of the best things about bar carts is their mobility. You can have a bar cart be a fun accessory in your den most of the year, but use it for welcome drinks inside the door when you have guests.
Want to offer a champagne toast on the back porch while watching the fireworks on New Years? At midnight, simply wheel out a surprise treat for your guests and enjoy!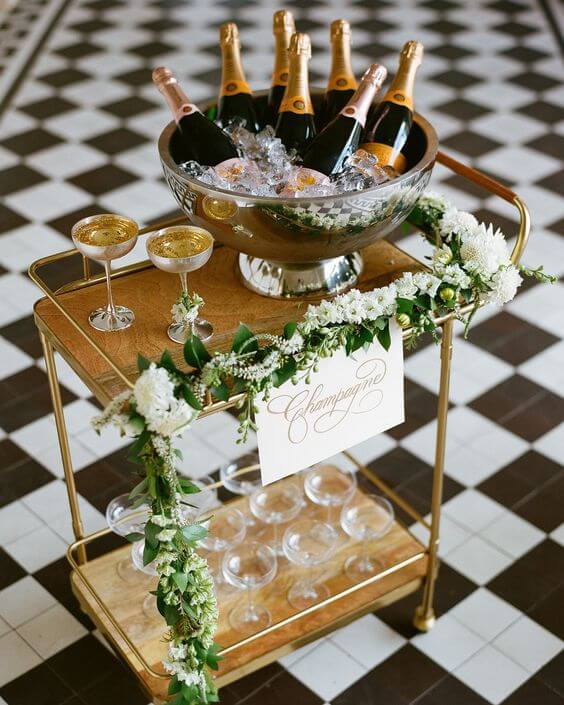 Traditional Bar Cart Ideas
If you want to use a bar cart in a traditional manner but don't know where to begin, fear not. We rounded up a few graphics to help you nail the break down of beverages AND the stylistic elements that make it gorgeous.
Stocking Your Bar
While you might be a fan of a good gin & tonic, your guests might have a different favorite libation. It is an investment to get one of each of the major liquors, however, it will make your bar seem very posh and well thought out. You may store wines elsewhere for temperature control, but can add a bottle or two to the cart before guests arrive. Don't forget to include some mixers and garnishes come party time! Other must haves are glasses (BONUS-- extra storage space, and a way to show off your pretty glassware), shaker, and cute cocktail napkins. See below for the ultimate breakdown!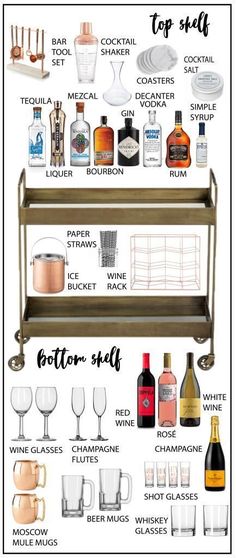 Decorating Your Bar Cart
A bar cart full of bottles only can be a little bland, so add a few personal touches to make it a work of art. The folks at Swoonworthy put together a great guide for achieving that chic bar cart look. We love their tip of adding "something living" to the display, but we think a some faux peonies or roses would look fabulous too. As for art to include on or behind it, the sky is the limit! Prints like these or these would make a striking backdrop for a well stocked bar. Many of the tips in our recent Coffee Table Decorating post would work well here too!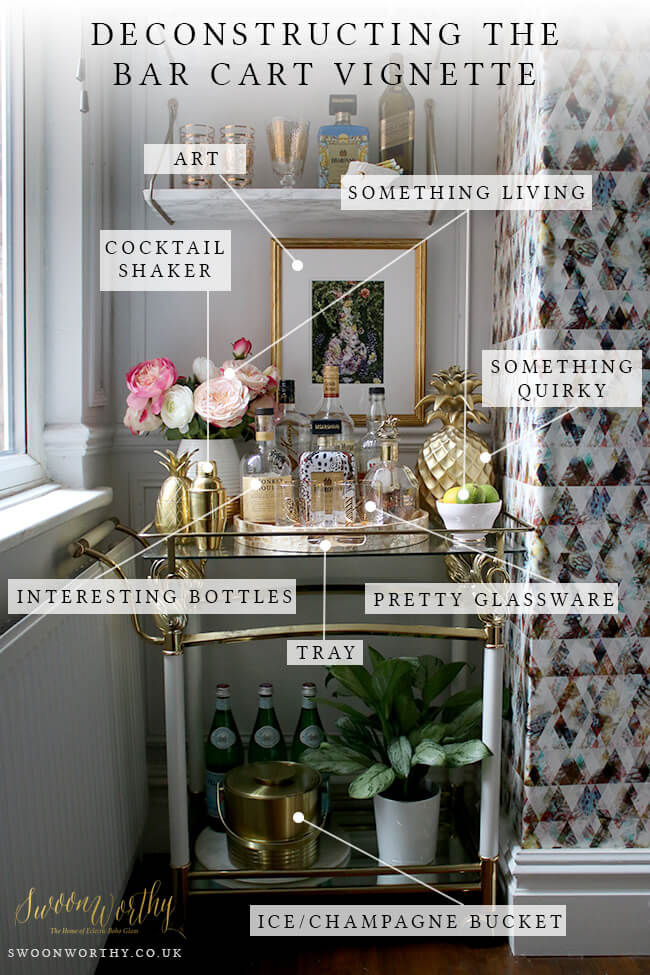 Seasonal Bar Cart Inspiration
As mentioned earlier, we think bar carts are a super fun way to bring in seasonal elements and holiday decor. A bar cart is a very small and manageable area to update for the holidays, but since it is often a focal point in the room, you get a lot of bang for your buck.
We will show you some of our favorite bar cart variations for Fall / Winter, and hopefully you'll be so inspired you can come up with your own fabulous ideas for St. Patrick's Day, Easter, 4th of July and beyond. We'd love to see what you come up with so please do share how it turns out!
Halloween Bar Cart
We know we are a little late, but we wanted to include some Halloween ideas because these were just too cute. Halloween is such a fun holiday because you can throw sophistication out the window and get a little silly. Cobwebs, cauldrons and spooky lighting are all fair game. Use your bar cart for "boos" or to serve up some sweet treats! Instantly update your cart display with Halloween signage or garlands.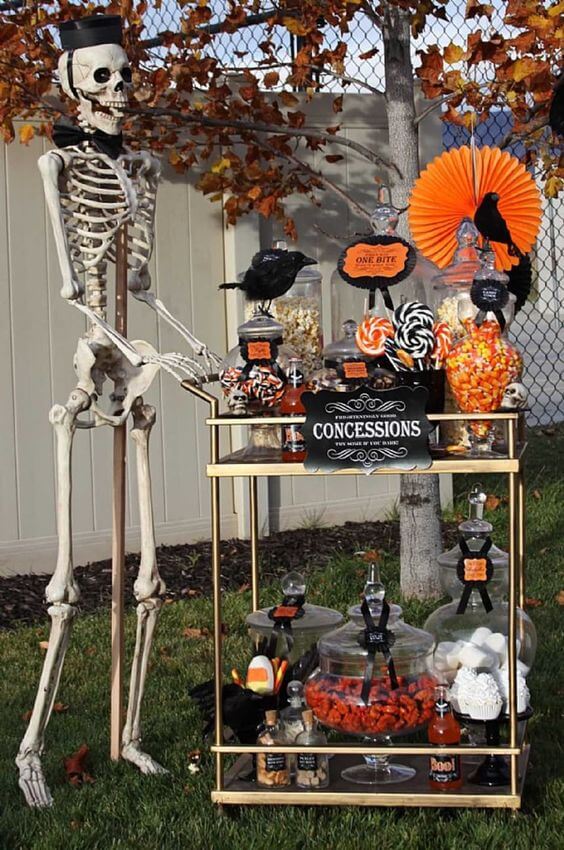 Thanksgiving Bar Cart
Thanksgiving is all about family, love and gratitude, but sometimes turkey and family gatherings go down even better with some drinks. Enter the Thanksgiving Day Bar Cart! Pumpkins, gourds, wreaths and spiced cocktails are the name of this game. Maybe a beaded Thanksgiving garland? We also love the idea of incorporating a tiered tray to add height and increase space you have to play around with!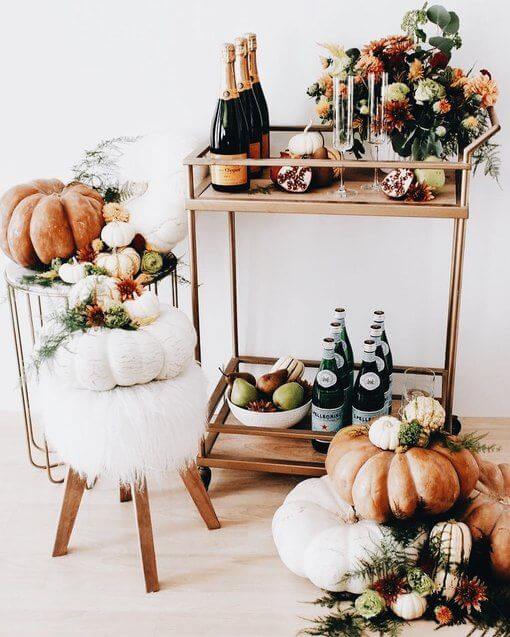 Christmas Bar Cart
Christmas is many people's favorite holiday to decorate for. You bar cart can certainly help to get you in the spirit, literally and figuratively! No matter what your holiday style is, a bar cart can be dressed up to suit your fancy. It is a great spot to display your smaller treasured decor pieces where they will get the attention they deserve. Christmas trees and a plate of cookies complete the look!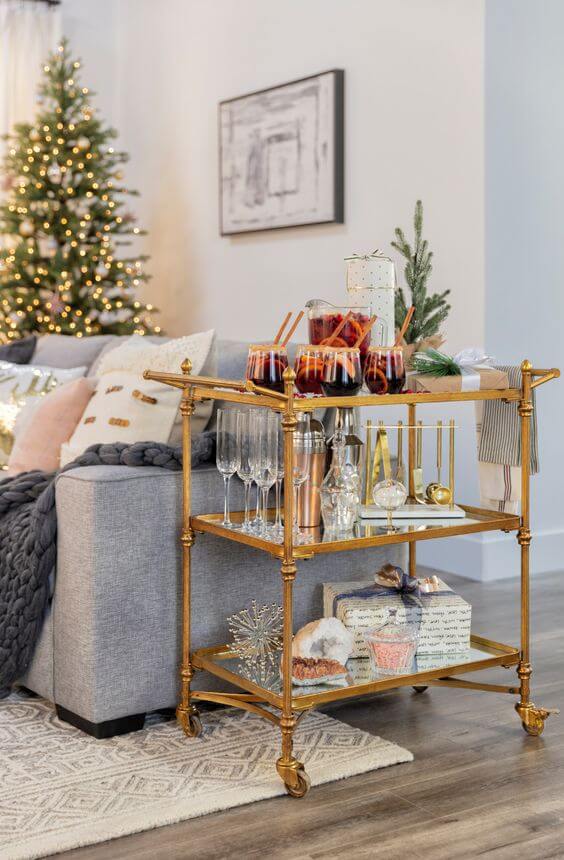 New Years Eve Bar Cart
Your bar cart will certainly sparkle at a New Years Eve bash. When the clock strikes 12, no one wants to be carrying a tray of champagne flutes! New Years is about glitz and glamour, so jazz up your cart with the colors of the season and anything that shines.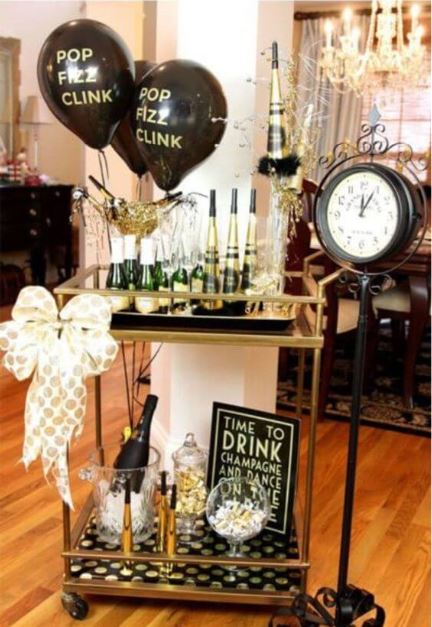 Dry Decor Alternatives
Besides making cocktails, there are plenty of other ways to use a bar cart! We have seen some amazing coffee station carts for hosting a gathering or year round. If you have a Keurig, place it on the cart and organize your pods in a cute bin on the side. Add some mugs, containers for sugar and cream, and a little something to nibble on and you're all set! Other ideas include an apple cider and donut cart, a cart full of sweets, or a hot chocolate station with all the fixings. You can even serve your loved one breakfast in bed on a rolling cart!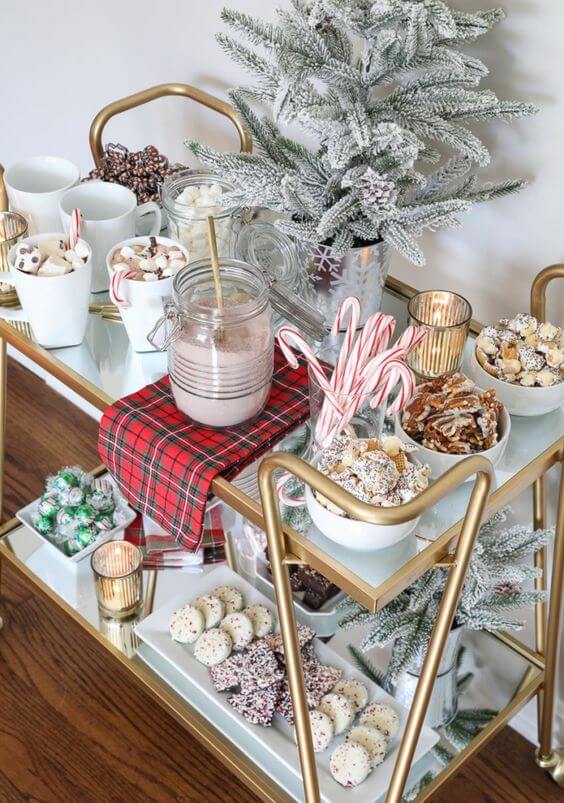 We hope you feel empowered to make your bar cart the star (and workhorse) of your next event! If you incorporate any of your Decor Steals favorites in your bar cart design, don't forget to tag us on social with #decorstealsaddict!