There's something truly enchanting about transforming your farmhouse into a Winter Wonderland during the holiday season. To achieve the perfect look and make your farmhouse stand out, it's essential to start shopping for winter decorations early. In this blog, we'll explore the benefits of early winter decor shopping and provide creative ideas on how to decorate your farmhouse with vintage Winter Wonderland decorations.
The Benefits of Shopping Early for Winter Wonderland Decorations
Wide Variety of Choices: One of the most significant advantages of shopping early for winter decorations is the extensive selection available. You'll have your pick of the best pieces before they sell out, ensuring you can create your Winter Wonderland just the way you envision it.
Avoid Last-Minute Stress: Waiting until the last minute to decorate can lead to unnecessary stress during the holiday season. Shopping early allows you to plan and execute your decor ideas calmly, reducing the pressure of rushing to find the perfect pieces.
Budget-Friendly Options: Many stores offer discounts and promotions on winter decorations early in the season. By shopping in advance, you can take advantage of these deals and potentially save money on your decor.
Inspiration and Planning: Early shopping gives you ample time to plan your farmhouse's Winter Wonderland theme. You can gather inspiration from various sources and create a cohesive decorating scheme that will truly make your home shine.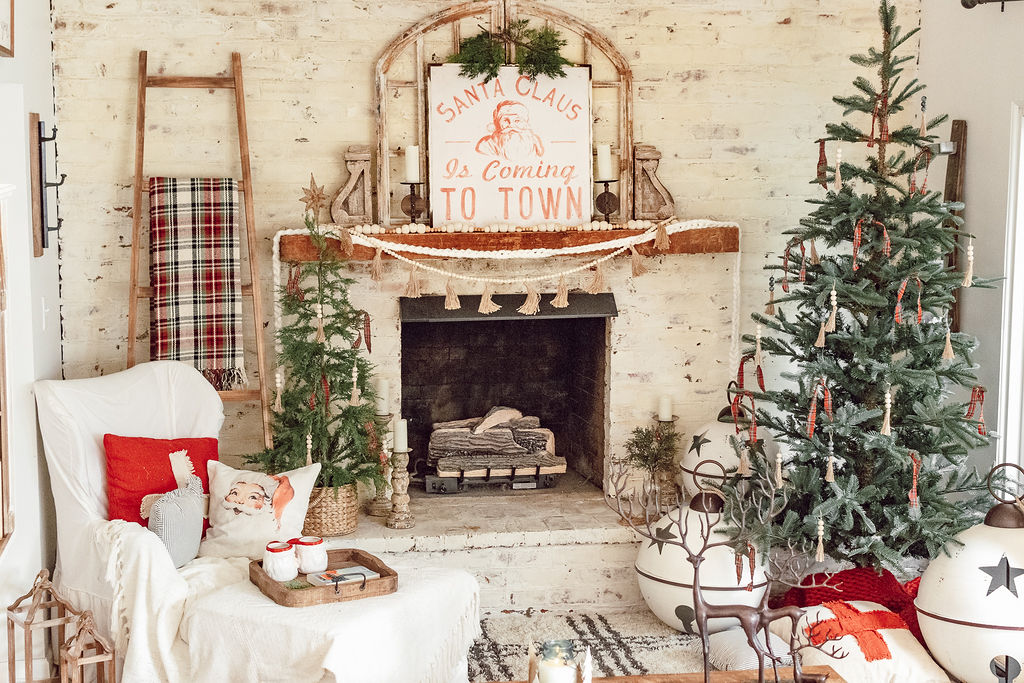 Now that you understand the benefits of early shopping, let's explore some ideas for decorating your farmhouse with vintage Winter Wonderland decorations:
Antique Ornaments: Vintage ornaments with a timeless appeal can be used in various ways. Hang them on your Christmas tree, string them together to create garlands, or place them in glass jars or bowls as charming tabletop decorations.
Vintage Sleds and Skis: Incorporate vintage sleds and skis as rustic decor elements. Lean them against walls or use them to create outdoor displays. You can also hang wreaths or greenery on them to enhance the winter aesthetic.
Old-Fashioned Lanterns: Vintage lanterns can add a warm and cozy ambiance to your farmhouse. Place them on tables, shelves, or window sills, and fill them with candles or battery-operated LED lights.
Classic Snow Globes: Vintage-style snow globes are perfect for creating a whimsical atmosphere. Display them on mantels, shelves, or as centerpieces on your dining table. Shake them up for a magical snowy scene.
Repurpose Vintage Dishes: Scour antique shops for vintage dishes with winter-themed designs, such as snowflakes or holly patterns. Use them for serving holiday meals or as decorative accents throughout your farmhouse.
Old-Fashioned Advent Calendars: Vintage-inspired Advent calendars with tiny drawers or pockets can be a charming addition to your decor. Fill them with small treats or handwritten messages for a daily dose of holiday cheer.
Vintage Textiles: Look for vintage holiday-themed linens, such as tablecloths, napkins, and curtains, to infuse your farmhouse with a nostalgic touch. These textiles can tie your decor together and create a cohesive look.
Shopping early for Winter Wonderland decorations offers numerous benefits, from a wider selection of choices to a stress-free decorating experience. By incorporating vintage decor elements, you can create a farmhouse winter wonderland that exudes timeless charm and nostalgia. So, embrace the magic of the season, start your winter decor shopping early, and let your farmhouse shine with vintage Winter Wonderland decorations. Happy decorating!